A DUI conviction can have major consequences on your life. A DUI is a criminal offense, and as such, your will need the assistance of a criminal defense attorney who will aggressively fight for your legal rights. Many criminal defendants across the country end up with excessive fines or even jail time from not receiving the legal assistance they need.
At DUI Lawyers 24/7, we have the experience and dedication to provide you with the vigorous defense your case requires. Our skilled attorneys will handle know how the criminal justice system works and can help you face handle your criminal charges in a way that gets you the best results possible.
We will explore all of your legal options to build the best defense strategy to face the charges brought against you. Contact a Kane County DUI lawyer at DUI Lawyers 24/7 at 847-999-7616 today to schedule your free initial consultation!
Illinois DUI Laws
You can be convicted of drunk driving in Illinois if you are in physical control of a vehicle, are under the influence of alcohol or drugs, and/or have a blood alcohol concentration (BAC) of .08 or higher. Remember that the BAC value is different for certain groups, such as those who are not of age to legally consume alcohol, or those operating a commercial vehicle.
A blood alcohol content of .04 or higher can lead to a conviction for anyone operating a commercial vehicle at the time of their arrest. Drivers below the age of 21 may lose their driving privileges if they are found to have consumed any amount of alcohol before operating a motor vehicle.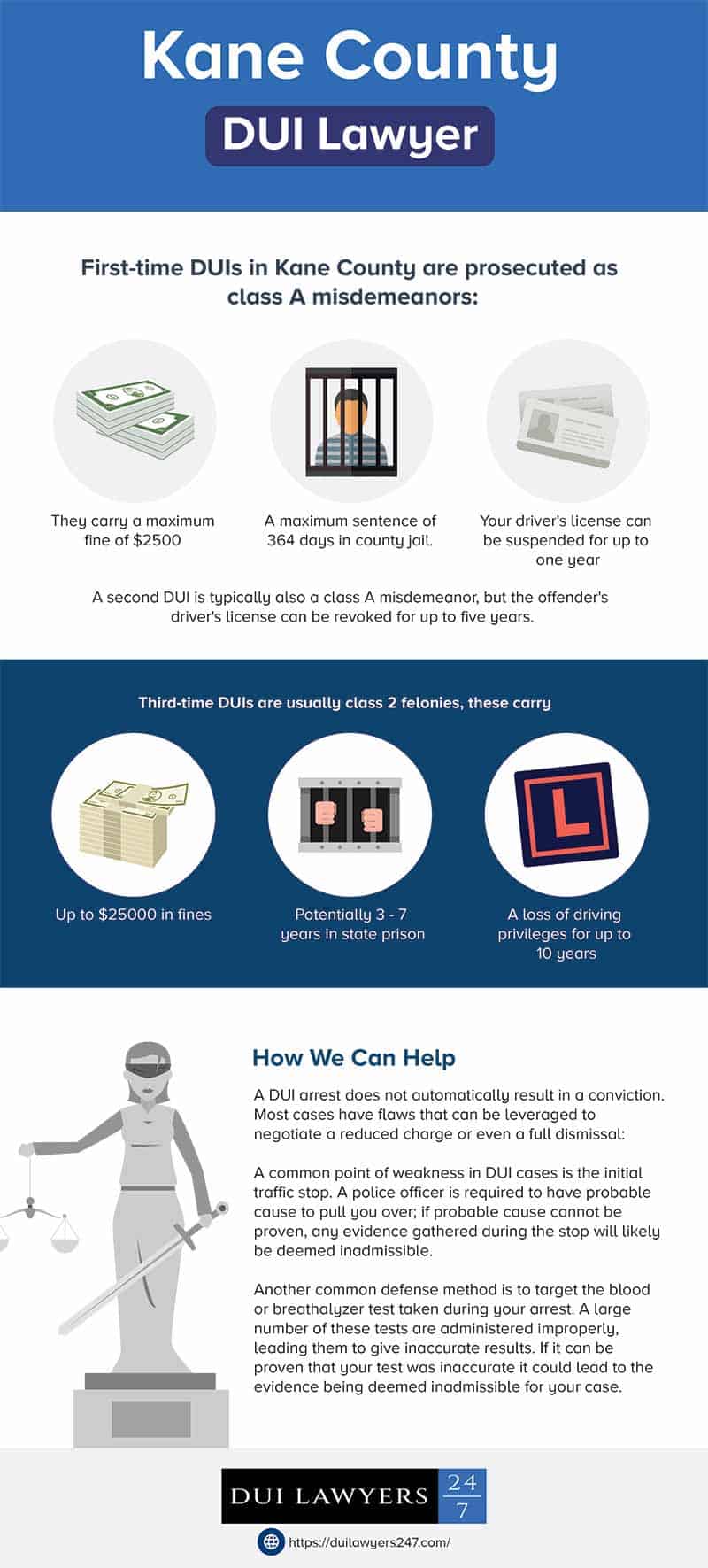 DUI penalties can vary depending on the circumstances surrounding the case, such as if this is a first time offense, or the severity of the outcome. First-time DUIs are listed as Class A misdemeanors, and as such, carry a maximum fine of $2500 and a maximum sentence of 364 days served in county jail. A first-time offender may also have their driver's license suspended for up to one year.
This is where having qualified legal representation is critical, as those without an attorney are far more likely to have their license revoked. You may also face consequences such as community service, alcohol or drug counseling, and the installation of an ignition interlock device if you are convicted of a DUI. 
Related Content: Kane County Traffic Lawyer
While second-time DUIs are typically also typified as Class A misdemeanors, the offender's driver's license can be revoked for up to five years. Third-time DUIs are usually prosecuted as class 2 felonies, carrying up to $25000 in fines, between 3 and 7 years in state prison, and a loss of driving privileges for up to 10 years. Fourth-time or more DUIs may carry heavier penalties depending on a number of factors that will be taken into consideration.  
Aggravated circumstances surrounding your DUI arrest can have you facing steeper penalties than you otherwise would. These circumstances include:
Refusing to submit to a chemical test during or following your arrest
Driving under the influence of drugs or alcohol with a minor present in the vehicle
Your DUI-related accident results in the death or serious bodily injury of another
Driving under the influence with a suspended or revoked license
Avoid License Suspension
If you have been arrested for a DUI, your driver's license will be automatically suspended 45 days after your arrest. This gives you the chance to file a motion in court to stop the suspension or to rescind it. An experienced DUI attorney will be able to help you file your motion through the appropriate court, and present your argument in the best manner to have your license returned. Should you be unable to have your license suspension rescinded, you may still be eligible for a monitoring device driving permit. 
Manage Your Secretary of State License Reinstatement Hearing
If you have had your driver's license suspended or revoked, you will have to go through a license hearing with the office of the Secretary of State. A qualified attorney with experience in DUI cases will be able to help you prepare for your hearing and even represent you for this part of your case. They also know the criteria the hearing board will be measuring your case against and can use this knowledge to help you get your license reinstated.
How Do We Defend Against Your DUI Charge?
A DUI arrest does not automatically result in a conviction. Most cases have flaws that can be leveraged to negotiate a reduced charge or even a full dismissal of your charges. A common point of weakness in DUI cases is the initial traffic stop. A police officer is required to have probable cause to pull you over; if it can be demonstrated that probable cause did not exist, any evidence gathered during the stop will likely be deemed inadmissible.
Another common defense method is to target the blood or breathalyzer test taken during your arrest. A large number of these tests are administered improperly, leading them to give inaccurate results. Demonstrating that the results of your test are inaccurate could lead to the evidence being deemed inadmissible for your case.
Work With a Talented Kane County Attorney
Drunk driving convictions can carry a number of serious consequences that reach outside of your driving record. A DUI is a criminal charge, and a conviction will show up on your criminal record, which can make it more difficult to be approved for loans, housing, employment opportunities, or college admission. Commercial drivers can even lose their source of income. 
An experienced DUI attorney knows what it takes to fight and win against DUI charges. Contact a criminal law office, DUI Lawyers 24/7 to schedule a free case consultation and see how we can help you with your case!