At DUI Lawyers 24/7, our Lake County criminal defense attorneys are committed to providing high-quality legal representation to people charged with DUI criminal charges, traffic offenses, and other related crimes. Our Lake Cunty criminal defense law firm also focuses on the area of driver's license law, representing drivers seeking the reinstatement of their revoked or suspended license before the Illinois Secretary of State (SOS).
From misdemeanor offenses and felony DUI criminal charges to the most complicated license reinstatement hearings, we're dedicated to providing top-notch legal services to our clients. We have helped thousands of DUI offenders in Lake County, Cook County, DuPage County, Kane County, McHenry County, and throughout Illinois beat their DUI charges. To schedule a no-cost initial consultation, contact our Lake County legal team today at 847-999-7616.
Lake County DUI Sentences
DUI criminal charges carry a range of sentences. They can include hefty fines, alcohol and drug counseling, and even potential jail time. It all depends on the severity of the incident and whether it's the defendant's first, second, or even third time conviction.
Related Content: Lake County Traffic Lawyer
It's reassuring to know just what sentence your potential drunk driving conviction could carry, but sentencing always depends on the details of your DUI arrest. Also, it depends on the discretion of the judge. This ambiguity can work in the offender's favor because with an effective legal representation, you and your DUI criminal defense lawyer can argue for dismissal or at least reduction of DUI charges if there is a legal basis.
The Illinois Criminal Code states several criteria that affect how a drunk driving charge is classified and whether it's a misdemeanor or a felony charge. These include whether the offense was a first-time offense, the defendant's blood alcohol content (BAC) at the time of the drunk driving arrest, or whether minors were being transported in the motor vehicle. Additionally, a DUI offender who was caught driving under the influence of alcohol or drugs on a suspended or revoked driver's license will face more extreme criminal penalties.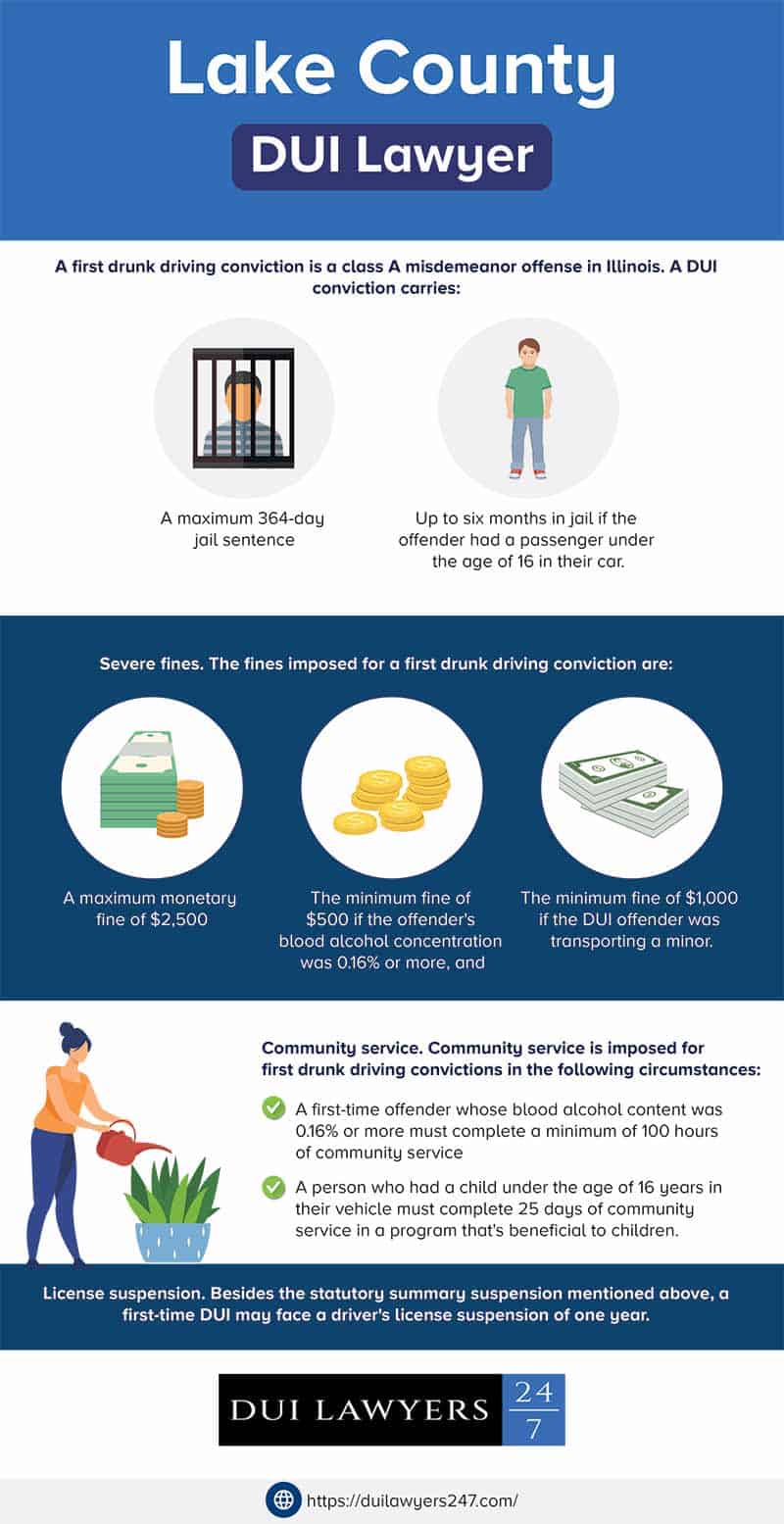 The most important thing you can do to avoid severe penalties is to hire a knowledgeable Lake County criminal defense attorney who has extensive experience under his belt to make compelling arguments that may result in an acquittal or reduction of DUI charges.
What Happens to First-Time DUI Offenders in Illinois?
A first drunk driving conviction is a class A misdemeanor offense in Illinois. A DUI conviction carries:
A maximum 364 day jail sentence and
Six months in prison if the DUI offender was transporting a passenger under the age of 16 in their car.
Hefty fines. The fines imposed for a first drunk driving conviction are:
A maximum monetary fine of $2,500
The minimum fine is $500 if the offender's blood alcohol concentration was 0.16% or more, and
The minimum fine is $1,000 if the DUI offender was transporting a minor.
Related Content: What to do After a DUI Arrest in Illinois
Community service. Community service is imposed for first drunk driving convictions in the following circumstances:
A first-time offender whose blood alcohol content was 0.16% or must complete a minimum of 100 hours of community service, and
A person who had a child under the age of 16 years in their vehicle must complete 25 days of community service in a program that's beneficial to children.
License suspension. Besides the statutory summary suspension mentioned above, a first-time DUI may face a driver's license suspension of one year. Any time the DUI offender's driving privileges were administratively suspended is credited towards the one-year license suspension.
The defendant may apply for a hardship license or restricted driving permit to drive to school, work medical appointments, and alcohol/drug treatment. In limited circumstances, a person with a hardship license can drive the elderly, children, and disabled persons. To get a restricted driving permit, the DUI offender must prove that a hardship exists and they aren't a danger to public safety. If the person's driver's license has been suspended after the first DUI conviction and a statutory summary suspension, they must install a breath alcohol ignition interlock device (BAIID) in their vehicle for the duration of the RDP.
Learn More: Should You Take a Breathalyzer?
Contact Our Lake County DUI Lawyers Today for Legal Advice!
Avoiding a drunk driving conviction is crucial, no matter the unique aspects of your case. Our experienced Lake County DUI criminal defense lawyers can handle any DUI case. The best way to avoid the potentially harsh consequences of a DUI conviction is to hire an experienced DUI criminal defense attorney who has the skills and vast experience to craft a smart and aggressive defense strategy.
Our criminal defense attorneys have handled a wide range of criminal charges, including traffic ticket, DUI, and other criminal cases, and can help you beat your criminal charges. To schedule a no-cost initial consultation, contact an experienced attorney at our law offices in Lake County today at 847-999-7616.